Office Cleaning in NYC
Benchmark Cleaning Service
provides the top commercial office cleaning services NYC has to offer
Why should you choose our office cleaning services for your business? Well, take a moment to reflect on our name and what it stands for. At Benchmark Cleaning Service, from the beginning our goal has been to offer a stellar commercial cleaning service that puts the customer first by making sure their needs are satisfied.
We have been in the office cleaning business in the New York City area for over fifteen years by living up to that standard. Our cleaning staff is prompt, professional and prepared. We understand the ebb and flow of your business and will work with you to provide custom and competitive packages and price points tailored to your specific needs.
No job is too big or too small. We are not your run of the mill spray and wipe service. We get into the nooks and crannies. We make sure you can see your reflection in the computer monitors and bathroom fixtures. We will remove all traces of the lunch explosion in the microwave. That gunk in the refrigerator? Gone. The stain on the carpet in the conference room? What stain? Where? There was too much celebration at the annual Christmas party? No problem. It's like it never happened. Our experienced and professional cleaning staff will make it right.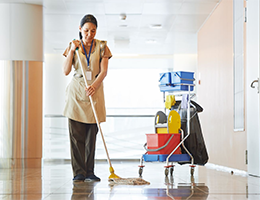 A clean office is a healthy office. Your staff just feels better working in a clean and pleasant setting, which also plays a part in helping your office to be more productive. Removing dust and allergens from your environment, making sure pantries and restrooms have been properly disinfected, as well as floors cleaned and trash properly disposed, are critical for a fresh feeling and healthy workplace and is a job that we take very seriously.
In business as in life appearance is also important. A pristine and orderly workplace contributes toward a vibrant, progressive and relevant commercial model. Again, Benchmark Cleaning Service is there for all your commercial office cleaning services and other janitorial needs. We understand that this is not a one size fits all proposition. That's why we want you to think of us as more as a concierge service; one that anticipates and provides the commercial cleaning services your business requires. At the end of the day, your employees feel healthy, productivity is high and customers are satisfied.
At Benchmark, we are committed to providing superior customer service to our clients. We consider it a privilege to be invited into your space to provide these commercial office cleaning services for you, and so it is our priority to treat our customers and their valuables with only the utmost respect.
At the end of each day, our work and our goal is to meet and surpass your expectations.
Highlights of our office cleaning & commercial cleaning services as given below.
Office cleaning options (including but not limited to):
Benchmark Cleaning Service – The top choice for all your NYC corporate office cleaning needs!